Obituary for Corey Steven Felton
Mr. Corey Steven Felton was born on February 12, 1969 at Orange Memorial Hospital in Orange, NJ. He departed this life on Monday, September 10, 2018.

Corey was the youngest of four children born to James and Elizabeth Felton. Their baby boy came early, weighing only two pounds, three ounces. Who would have imagined that he would grow to be a gentle giant standing 6 feet 4 inches tall? There were certainly advantages to being the "baby boy!" When his older siblings left the home for college and careers, Corey got his parents all to himself. He had the pleasure of enjoying entire pizzas, roast beef subs and even vacations without having to share with Robyn, Jimmy and Cindy. In fact, on one trip, Corey became acquainted with the term "charge it to the room, please." At the end of the trip, mom and dad were shocked to discover that he had run up a bill for a whopping $400.00.

At an early age, Corey accepted Jesus Christ as his Lord and Savior at Bethany Baptist Church in Newark, NJ. He later attended Christian Love Baptist Church in Irvington under the leadership of his good friend, the late Rev. Ron Christian.

During his early years, Corey attended Blessed Sacrament School in East Orange NJ. When the family moved to South Orange, New Jersey, he continued his education at Montrose School. Corey was a natural athlete, exhibiting outstanding talents in basketball, football, wrestling, baseball track and field and swimming. In 1983, Corey enrolled in Columbia High School, where he continued his athletic endeavors. Finally, during his senior year in high school, he had to decide on which sport to focus all of his efforts. He chose football, which proved to be the right choice for him. Upon graduation, he was offered a full football scholarship to Delaware State University in Dover, DE. He was such a proud Hornet and truly enjoyed his HBCU experience. Corey was a talented defensive lineman, one of very few players who suited up and played during freshman year. He contributed to the team being named MEAC champions 1987, 1988 and 1989. Corey was so proud of this accomplishment. In fact, he wore his championship ring every single day as reminder. During his final year at DSU, Corey worked with the team as an assistant coach. He graduated in 1992 with a Bachelor's degree in Business Management. He later earned a Certificate in Project Management.

After college, Corey and one of his best friends Norm, went to play in the Professional Spring Football League for a short while. If you have ever conversed with them about this experience, you most definitely walked away holding your side from laughter. Corey could tell a story like no other. They usually involved his bold antics and tons of animation.

Upon returning home, Corey followed the legacy of entrepreneurship that his father had established for the family. He opened a sandwich shop with then, brother-in-law, Jerome Ramsey. Over the years Corey would run multiple businesses, including a news and gift stand, contracting company and a real estate investment company. In honor of his father, he opened Ebon Environmental, a janitorial services company, of which he was president and his sister Robyn was vice president. Under his leadership, the company secured multiple successful contracts, such as the City of East Orange, the Township of Orange, the Township of Bridgewater, City of Jersey City, Steve and Kate's Camp, churches, restaurants, childcare centers and office buildings. Corey was an expert at carpet cleaning and stripping and waxing. He took great pride in his work and his charming personality won over many clients.

In 1998, Corey married Renee Ayers. Although they divorced 8 years later, the two have maintained a close friendship. Corey Felton wore many hats in his short lifetime: devoted son, brother and uncle, talented athlete, loving companion, best friend, godfather, entertaining storyteller and entrepreneur. But there is one role in which he excelled beyond measure. On July 27, 2006, Corey Felton became a father to a handsome baby boy named Rory Jacob Felton. Rory was born in Connecticut, where his mother Shalan lived at the time. Corey brought his one week old baby home to New Jersey to meet his family and to allow Shalan time to heal. The two have been inseparable ever since. Whether Rory lived in Connecticut or South Jersey, his father made it his business to be at every event: from parent teacher conferences to early morning wrestling matches, from honor roll breakfasts to school concerts, from doctor visits to haircuts, he was present for everything. Corey's face lit up when he spoke about Rory. His favorite thing to do was to brag about how intelligent Rory is. As much as Corey loved his HBCU experience, he was clear that he saw Rory as Ivy League material. Although he is not here in the flesh to see his baby boy reach this milestone, he left host of family and special uncles (Rory, Norm, Preston, Collin, Gerald, Greg, Dave & Steven) to support Rory in his academic and athletic endeavors, but more importantly to share all the stories about his dad, once he is old enough to hear them.

After a medical procedure on Friday, September 7, 2018, while he was home recovering, God whispered Corey's name. He answered the call and departed this life on Monday, September 10, 2018.

Corey was predeceased by his father, James E. Felton Jr.

Corey S. Felton leaves to cherish his memory: his mother, Elizabeth Felton; son, Rory Jacob; sisters, Robyn D. Felton Royal (Dennis) and Cynthia Crews (Charles); one brother, James Edward Felton III; an aunt, Ruth Whitehead; three uncles, Julius, Willie and Frank Madison; 8 nieces, Shanay, Jontae, Kayla, Bryanna, Brandi, Madison Bailey, Parker Hailey and Lexington; 3 nephews, Jerome James, Julius and James IV; his girlfriend, Tracey Watkins; God parents, John and Glorious Crooms; God sister, Daria Crooms; two God brothers, John H. Crooms II and Keymonte Crooms; God children, Sierra, Nyah Johnson, Allaynah, Brianna, Taylor, Rory Jr. and Corey; and a host of cousins, other relatives and friends.

Corey enjoyed life and cherished his friendship with: Susan Hoffberg (Owner, SuzyQue's BBQ and Bar, West Orange, NJ), his special friend Tami Grimes and his ex-wife Renee Ayers.

This Online Memorial has been created to commemorate the life of Corey Steven Felton. Leave a message on the Tribute Wall to share your favorite memories and offer words of sympathy and comfort.
To send flowers or a remembrance gift to the family of Corey Steven Felton, please visit our Tribute Store.
Previous Events
Visitation
Imani Baptist Church
117 Elmwood Avenue
East Orange, NJ 07018
Visitation
Imani Baptist Church
117 Elmwood Avenue
East Orange, NJ 07018
Funeral Service
Imani Baptist Church
117 Elmwood Avenue
East Orange, NJ 07018
Cemetery Details
Location
Fairmount Cemetery
620 Central Avenue
Newark, NJ 07107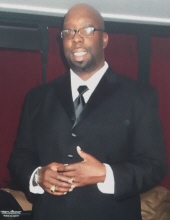 Thank you for sharing your
memory of Corey
Provide comfort by sending fresh
flowers from our local florist.
No thanks, please don't show me this again.