Obituary for Marie Irma Alvarez
Marie Irma Alvarez commença son parcours en tant qu' aînée d'une famille de neuf enfants et
fut mise au monde par Fleurimise Lubin, le 21 mai, 1939. Née à Léogane, à Haïti, elle fît ses
"études primaires et secondaires consécutivement aux établissements Maria Delbaud et Lycée
de Jeunes Filles,à Port-au-Prince. Après avoir bouclé le niveau secondaire, elle décida de suivre
une formation de secrétariat à l'école de commerce, Julien Craan, à Port-au-Prince.
Revenue d'un cycle d'études administratives à la Jamaïque, elle occupa plus tard, en Haïti, des
postes successifs au ministère de l'intérieur et de la défense nationale ensuite au ministère du
commerce et de l'industrie. Elle obtint, au cours de sa dernière fonction en Haïti , une bourse
d'études où elle poursuivit ,avec joie et sens du devoir, des études avancées en Espagne. Par la
suite, au conseil de l'une de ses tantes, elle prit la décision de s'installer aux États Unis où elle
connut une carrière intense à la société de Merrill Lynch, exerçant jusqu'à sa retraite le rôle
d'assistante gérante au service de prêt hypothécaire.
L'aspect le plus important de la décision d'Irma de se rendre à New York se révéla être la
rencontre de l'amour de sa vie, Serge Alvarez. Ils se sont mariés en 1966, fonda leur famille
avec Magda et Alex. Leur joie atteint son comble l'année suivante avec la naissance de Sarah,
en 1967. Ils ont fait de Brooklyn , New York, leur foyer.
Affectueusement surnommée "Mama" ou "Moumousse", Irma incarna une âme maternelle à
l'égard de tous. Elle adorait sa famille. Elle le manifestait de différentes manières,
particulièrement par des coups de fil pour s'enquérir des nouvelles d'un proche ou par la
préparation d'un repas quand quelqu'un lui rendait visite. En tant que femme forte et
fervente, Mama communiqua avec Dieu tous les jours. Elle ne rate jamais l'opportunité de
donner aux autres. Sa sagesse innée, son coeur aimable, et son sourire accueillant vont
certainement nous manquer.
Le 27 septembre à l'aube, notre bienaimée Mama s'est réunie avec les siens, Serge et Sarah.
Elle restera attachée à la mémoire de ses frères et soeurs : Jean Moricel "André" Lubin, Jean-
Claude "David" Lubin, Olga Louissaint, Fred Lubin (décédé), Gracieuse Lesperance, Evens Lubin,Willy Jules Lubin (décédé), Pierre Richard Lubin. Ses cousines, Carole Lapointe-Prospère et famille, Michèle Châtelain et famille. La famille Macombe. Son beau-frère, Karl Alvarez et
famille. Son beau-fils, Alex Alvarez et famille. Sa belle-fille, Magda Alvarez et famille. Ses
nombreux cousins, nièces, neveux, et alliés, y compris les familles: Lapointe, Saint-Paulin,
Diègue, et Louissaint.

English Translation

Marie Irma Alvarez began her journey as the first of 9 children, born to Fleurimise Lubin, on May 21st, 1939. Born in Léogane, Haiti, she attended both Maria Delbau's primary school and Lycée de Jeune Filles, in Port-au-Prince. After completing secondary school, she decided to pursue Secretarial Studies at The Crane Business School, in Port-au-Prince.

Returning from her studies in Jamaica, she held positions in Haiti's Ministry of Interior and Territorial Communities and Ministry of Commerce and Industry. While working, she was offered the opportunity to further her education in Spain. Which she both happily and dutifully accepted. At her Aunt's suggestion, Irma decided to move to the United States afterwards. Where she had an extensive career at Merrill Lynch, eventually retiring as the Assistant Supervisor in their Mortgage Lending Department.

However, the decision to move to New York also united her with the love of her life, Serge Alvarez. They were wed in 1966, starting their family with Alex and Magda. Sarah was born the following year, in 1967. Making Brooklyn, New York their home.

Affectionately, known as "Mama" or "Moumousse". Irma was a mother to all. She adored her family. Whether it was calling to check on you or preparing a meal, when someone stopped by to visit. Mama made you to know she cared for you. As a woman of strong character and even stronger faith, she communed with the Lord daily. Always taking the opportunity to give to others. Her freely given wisdom, kind heart, and warm smile will truly be missed.

Early September 27th 2019, our beloved Mama was reunited with her Serge and Sarah. She will to be remembered by her siblings: Jean Moricel "André" Lubin, Jean-Claude "David" Lubin, Olga Louissaint, Fred Lubin (deceased), Gracieuse Lesperance, Evens Lubin, Willy Jules Lubin (deceased), Pierre Richard Lubin. Cousin, Carole Lapointe-Prosper and family. Cousin, Michelle Chatelain and family. The Macomb family. Brother-in-law, Karl Alvarez and Family. Son-in-law, Alex & Michelle Alvarez and family. Daughter-in-law, Magda Alvarez and family. A host of more cousins, nieces, nephews, and extended loved-ones including the: Lapointe, Saint-Paulin, Diegue, and Louissaint families.

This Online Memorial has been created to commemorate the life of Marie Irma Alvarez. Leave a message on the Tribute Wall to share your favorite memories and offer words of sympathy and comfort.
To send flowers or a remembrance gift to the family of Marie Irma Alvarez, please visit our Tribute Store.
Previous Events
Visitation
Perry Funeral Home
34 Mercer St.
Newark, NJ 07103
Visitation
St. Andrew's Episcopal Church
933 S. 17th Street
Newark, NJ 07108
Funeral Service
St. Andrew's Episcopal Church
933 S. 17th Street
Newark, NJ 07108
Cemetery Details
Location
St. Michael's Cemetery
7202 Astoria Blvd South
East Elmhurst, NY 11370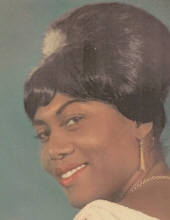 Thank you for sharing your
memory of Marie
Provide comfort by sending fresh
flowers from our local florist.
No thanks, please don't show me this again.