Obituary for James William Harris
James William Harris, the third child of the late Sam Curtis Harris and Alice Taylor Harris, was born on November 25, 1941 in Zebulon, North Carolina at home with a midwife. He was affectionately known to some as "James" and to others as "Jimmy."

The day after his birth at 4:00 pm his father Sam Curtis Harris died of an apparent heart attack leaving Alice, a widow with three children– Curtis Jr "CH"., Mildred "Sister" and James William, all under the age of three, to raise alone. Various people came to the home to help out, but one person inadvertently gave James "Whooping Cough" an illness that is deadly for infants. James almost died as an infant, but he was a fighter. Through the power of prayer and God's grace he not only survived, but thrived. This was only the first of many battles that James would confront during his lifetime. Alice later married again and gave birth to her fourth and final child Clifford Roy King "Chip".

As a child James was headstrong and determined to do things "his way!" If there were consequences, for his actions, he took them in stride. His oldest brother "CH" stated that when he was left in charge at home, James would always let him know 'you might be in charge, but you are most certainly not in control … at least not in control of me."
He was also very mischievous and a jokester.

Once James and his baby brother, Chip, took a smelly sock and kept sticking it under their mom's nose while she was sleeping. When that didn't wake her, James put his fingers into the sock and stuck them directly up her nose until she woke up. Of course, when Alice did wake up she was ready, willing, able, and did beat their behinds for that prank.

James was educated through the North Carolina Public School System and attended the James E. Shepherd School in Zebulon. As a child he and his family attended Eagle Rock Christian Church in Wendell.

Later in life Alice moved her family to Newark, New Jersey. While living in New Jersey he joined Positive Proof Ministries of Newark, under the Apostolic leadership of Apostle Frank Garris, Pastor and First Lady Ruth Garris, Co-pastor.

James got to know many ministers and pastors while working for funeral homes. Rev. John Teabout even made him an "honorary member" of Greater Friendship Baptist Church because he was at that church so often. James was also a member of the Newark Knights and loved sporting his Newark Knight jacket.

James was a hard worker and had many jobs during his life time. He worked for General Motors for 29 years. He also worked for Burnham Trucking Company delivering furniture and medical supplies. In 1967, at the age of 25, his brother-in-law Jimmy Outler passed away, that's when James began working for Perry Funeral Home at the Waverly Avenue and then at the Mercer Street location in Newark. However, from time to time he also worked for Woody and Brown Funeral Homes.

He had a strong work ethic and truly loved working for Perry Funeral Home devoting 51 years of service there while learning all aspects of the funeral home business. James was always on time because he hated to be late; that was his pet peeve! Whenever he had to go somewhere he would always arrive a half-hour to an hour earlier just to make sure that he was on time. So, around 7:00 or 7:30 every morning, after his newspaper, coffee and parliaments, James would happily leave home heading to Perry's. He was pitiful when he had a day off. He loved being at Perry Funeral Home helping families and loved ones. It was always James' desire to ensure that every person he touched received the best service possible.

James loved to drive. He once reminisced about the time when he drove to Virginia to pick up the largest African American sumo wrestler who was 6 feet 8 inches tall and weighed about 800 or 900 pounds at his death. He went alone counting on the funeral home to have a lift to put "Emanuel" into the hearse. But there was a problem, the lift broke. James solved the problem by calling the fire department. It took 15 firemen to put Emanuel's body into the hearse. James thanked them and promptly drove Emanuel back to his home state of New Jersey to Perry Funeral Home.

James became the father of three children, Antoinette, Nathan and Kenneth and grandfather to seven grandchildren: Dwight, Shant'e, Shatia, James, Kenneth, Michael and Nia and 2 special granddaughters Ariana and Ajayiah Decree. He was also the great grandfather of thirteen. James loved his children and only wanted the best for them.Nathan recalled one night when he was with his dad, James and Uncle GiGi at Perry's. James told Nathan to go in the back and get a signature from the lady with the gray hair. Nathan went obediently to get the signature, but came back without the signature. James looked at Nathan and sternly said "Boy didn't I tell you to get that paper signed?' So, Nathan abruptly turned around and went back again to get the signature. However, he returned just as quickly once again without the signature. James asked him "Why don't you have the signature?" Nathan said "Because that lady rose up and I ran out!" James and GiGi laughed saying "I knew she was going to sit up!"

James always kept you laughing. He was telling jokes until the day he passed. James believed in taking care of his mother and family. He loved them and was very protective. If you messed with is family, you were in for an earful. His greatest disappointment was in 2012 when both his baby brother and mother passed away only three months apart from each other.

He loved football, traveling, cooking, eating and looking sharp! James was an awesome cook and was known for his macaroni and cheese. His favorite thing to eat was "good food", and if the food was bad he would certainly let you know it. His favorite football team was the New York Giants.

Every other year James would take a VIP cruise traveling to Puerto Rico, Antigua, Jamaica, Bahamas, Bermuda, the Virgin Islands, Ocho Rios, Guadalupe and Cozumel, Mexico, St. Maarten, and many other vacation spots.

James loved getting dressed up and was known for flair, fashion and style. He knew just how to put an outfit together to look polished and sharp.

On the evening of September 25, 2018 at the age of 76 James transitioned from this earthly plane. He was predeceased by his parents Samuel Curtis Harris, Sr. and Alice Taylor-Harris; maternal grandparents Fred and Susie Taylor and paternal grandparents Samuel Dorsey and Nonie C. Harris; a brother Clifford Roy King; a brother-in-law Henderson Causby; two sister-in-laws Beverly Harkley-King and Gail Jones-Harris; and 2 special grandchildren Ariana and Ajayiah Decree.

James leaves to cherish his memory and legacy of humor, leadership and love his children Antoinette (Franklin Grice), Nathan Jones, and Kenneth Harris; his 7 grandchildren – Dwight, Shant'e, Shatia, James, Kenneth, Michael and Nia; 13 great grandchildren; a sister Bishop Mildred L. Causby and a brother Curtis Harris, Jr.; 3 Nephews – Ronnie and Clarence Causby, Curtis Harris III; 5 nieces – Robin Harris-Fair, Barbie Causby-Myers, Terry Wilder, Cherlonda King-Seroya, and Christina King; 2 uncles – Theodore and Roderic Allen Taylor; 3 Godchildren – Tyrone Dixon, Anthony DeCree and Elder Aletha Carlette White; 4 special friends – Carolyn Jones, Odell Jones, Doris Wilder and Linda Paul; his Perry Funeral Home Family, and a host of cousins, family and friends.

This Online Memorial has been created to commemorate the life of James William Harris. Leave a message on the Tribute Wall to share your favorite memories and offer words of sympathy and comfort.
To send flowers or a remembrance gift to the family of James William Harris, please visit our Tribute Store.
Previous Events
Visitation
Perry Funeral Home
34 Mercer St.
Newark, NJ 07103
Funeral Service
Positive Proof Ministries
761 Clinton Avenue
Newark, NJ 07108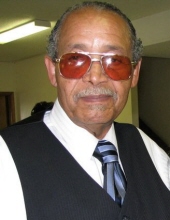 Thank you for sharing your
memory of James
Provide comfort by sending fresh
flowers from our local florist.
No thanks, please don't show me this again.